GENTEX AUTO DIMMING REAR VIEW MIRROR GENK2
The GENK2 Gentex Auto-Dimming Rear-View Mirror With Compass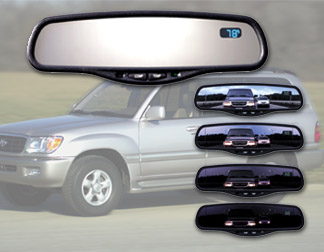 The auto-dimming rear-view mirror makes for a safer driving experience by automatically dimming the rear-view mirror to eliminate glare from rear-approaching vehicles headlights.
You can buy with confidence knowing your purchasing the very best in mirror and car accessory, we only stock Gentex rear-view mirrors because of their quality and functionality. Gentex is best known as the pioneer of the electrochromic auto-dimming mirror, many car manufacturer now use Gentex rear-view mirror for the same reasons. Gentex has made night-time driving safer for millions of drivers around the world. We import Gentex auto-dimming mirrors from US directly and as such each unit comes with a three years warranty.
 

Gentex uses its proprietary, solution-phase electrochromic technology. We sandwich an electrochromic gel between two pieces of glass, each of which has been treated with a transparent, electrically conductive coating, and one with a reflector.

1.

A forward-facing sensor recognizes low ambient light levels and signals the mirror to begin looking for glare.

2.

A rearward-facing sensor then detects glare from the vehicles traveling behind you, sending voltage to the mirror's EC gel in proportion to the amount of glare detected.

3.

The mirror dims in proportion to the glare and then clears when the glare is no longer detected.

4.

The interior mirror's sensors and electronics control the dimming of both interior and exterior mirrors.

 

Safety and More
There are many reasons to consider Gentex auto-dimming rearview mirrors. Not only do they increase driving safety by eliminating accident-causing glare, but they also provide car manufacturers with a cost-effective way to offer customers value-added electronic devices and other features.
Increasing Driving Safety
Why should you consider Gentex auto-dimming mirrors? Because rearview mirror glare causes accidents. It's that simple.

| | | |
| --- | --- | --- |
| Research shows that during nighttime driving, headlight glare from the vehicles traveling behind you can be blinding. Even once the source of the glare is removed, an after-image remains on the eye's retina that creates a blind spot you may not even know exists. Known as the Troxler Effect, this phenomenon increases driver reaction time by up to 1.4 seconds. At 60 mph, you'd drive over 123 feet before you even reacted to the danger in front of you. | | |

Auto-dimming mirrors make nighttime driving safer by detecting glare and automatically dimming to protect driver vision. Airbags, crumple zones and the like may help you survive a crash, but auto-dimming mirrors help you avoid one altogether.

The Troxler Effect Study
The Troxler Effect study was conducted by Dr. Alan Lewis, 55, a veteran researcher and Dean of the Michigan College of Optometry at Ferris State University in Big Rapids, Michigan. He spent 20 years as professor of physiological optics at the State University of New York and is often called upon to conduct optical experiments for business and industry. His Troxler Effect research has been published by the Society of Automotive Engineers and has been cited by Optometric Management Magazine and other journals.

Auto-Dimming Mirrors...Active, Crash Avoidance Safety Features
Consumer Demand
Another reason to consider auto-dimming mirrors is consumer demand. Consumer research conducted by a internationally recognized automotive research firm found that 90 percent feel auto-dimming mirrors increase driving safety, and 80 percent believe that both interior and exterior mirrors should be offered on vehicles like their own.
Specifications
| | | |
| --- | --- | --- |
| Specification | Range | Typical at 25º |
| Operating Voltage | 9.0 to 16.0 Vdc | 12.8 Vdc |
| Operating Temperature | -40º to +65º |   |
| Storage Temperature | -40º to +85º |   |
| Maximum Current | >450 milliamps | 350 milliamps |
| High Reflectance | >70% | >75% |
| Low Reflectance | >10% | >7% |
| Time to change reflectance from 60% to 15% at 25º | <6.0 seconds | 3.0 seconds |
| Time to change reflectance from 15% to 60% |   |   |
| at 25º | <8.0 seconds | 6.0 seconds |
| at -20º | <30 seconds |   |
| Gray Scale Ratio | 3</Ratio/<8 | 5.0 |
| Reverse Override | Increase reflectance in |   |
|   | <2 seconds | <0.5 seconds |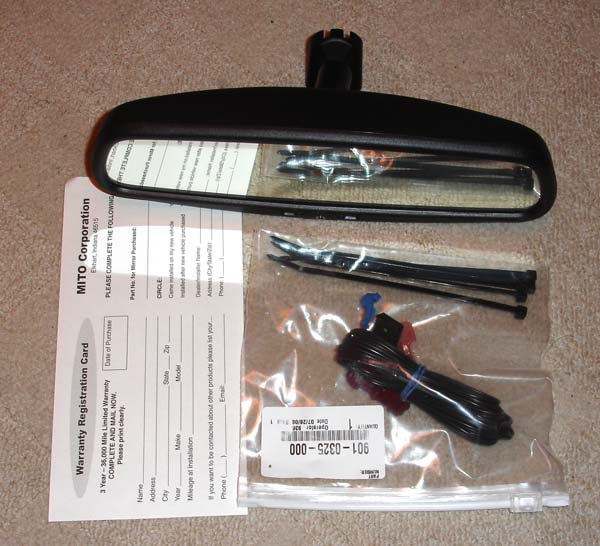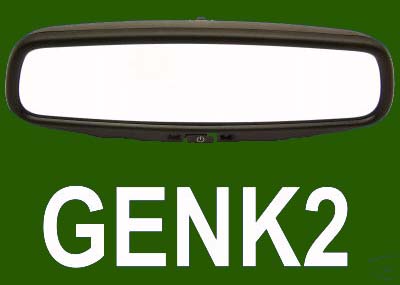 Rear-view mirrors for different cars are installed different, and compatability is therefore an issue, for this reason we ask that you check which type of mirror attachment your car is:

For full application chart for all brands and models, please click HERE.

For Audi, Seat, Skoda and Volkswagen, we provide a special auto dimming mirror adapter, please see here



Price: £71.48